Grizzled Skipper Practical Conservation Tasks Winter 2016-17
Nottinghamshire Work Parties 2016/17
Come along and join a group of like-minded people who are enthusiastic about the conservation of the Grizzled Skipper butterfly - a nationally important species which occurs at a number of sites in south Nottinghamshire. Many of the sites where the Grizzled Skipper occurs require regular management to keep them in a suitable condition for the butterfly, so we will be undertaking a series of practical workdays at some key sites on the following dates:
Sunday 9th October 2016 - Alverton Disused Railway Line
Sunday 13th November 2016 - Great Central Railway
Sunday 4th December 2016 - Flawborough Footpath
Sunday 22nd January 2017 - Great Central Railway
Sunday 26th February 2017 - Cotham to Kilvington Disused Railway Line
All work parties are from 10am to 3pm, please contact Chris Jackson for details of the meeting points and futher details
Grizzled Skipper - © Simon Jenkins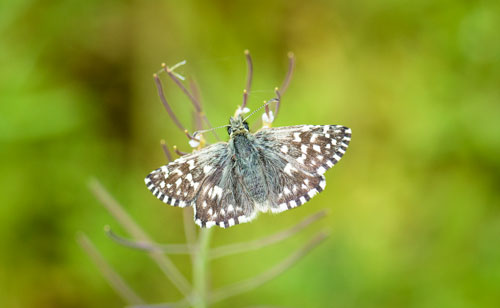 The work will involve:
Scrub clearance work to maintain open habitats required by the Grizzled Skipper and to help create corridors to link existing open habitats
Creation of bare earth patches to increase the availability of suitable egg-laying habitat
What to bring:
Lunch
Warm clothing and stout footwear
Work gloves (gloves will be provided if you don't have any)
Tools (if you have any - bow saws/loppers/spades. Tools will be provided, along with instruction on their use)
For more information please contact Chris Jackson at the Nottinghamshire Biodiversity Action Group on 0115 993 2588 or email chris.jackson@nottscc.gov.uk.
Volunteers working along the Great Central Railway in 2015