After an amazing spell of Mediterranean style weather recently, with cold nights but very warm and sunny days including a record 18&degC here in Derby on the 26th of February 2019, many recorders have emailed me their sightings in the county and a total of 390 butterflies have been seen in February 2019 compared to just 6 in February 2018 when we suffered extreme cold as a result of the 'Beast from the East' The overall total for the first 3 months of 2018 was just 184 butterflies seen so we have more than doubled the overall numbers seen during February 2019 alone. As we are about to enter a new month it looks like the Atlantic weather systems will prevail but at least the 'Pest from the West' should ensure that we get a few decent sunny days in the near future alternating with wet and windy conditions.
What was really amazing for Pat and me was the fact that we saw all 4 hibernators (Brimstone, Peacock, Small Tortoiseshell, Comma ) together with an overwintering Red Admiral during the month of February 2019 – the first time that this has happened to us in 40 years of recording in Derbyshire!
Whilst the number of flowers for butterflies to take nectar from was somewhat limited, most species managed to take advantage of early flowering blossom on trees, catkins and also early emerging pussy willows(see some of the attached great photos that I have been sent recently).
As well as the species mentioned above there have been a couple of new county records recently with a Green-veined White seen on the 24th of February 2019 in the Buxton garden of Bob Billing, this being nearly 4 weeks earlier than the previous record of the 19th of March (2003). Similarly a Large White was seen on the 26th of February 2019 in the gardens at Hardwick Hall (Ian Hunt) which again is about 4 weeks earlier than the previous record of the 23rd of March (2003). Additional sightings of the Speckled Wood this year have come from only Forbes Hole LNR, Long Eaton where 2 individuals were noted by Marion Bryce on the 25th of February 2019. Again sightings of the Red Admiral have been scarce so far this year, no doubt as a result of the poor year that the species had in 2018 – recent records have come from Forbes Hole LNR Long Eaton (Marion Bryce) and at Ironville (Pete Clark).
The most common butterfly seen in Derbyshire since the last update was the Small Tortoiseshell with 122 individuals seen across the County at 74 sites with the maximum of 7 coming from Salter Wood, Denby on the 26th of February 2019 (Jane Rogers) and also 7 along the Chesterfield Canal at Staveley on the 27th of February 2019 (Sid Morris). Similarly there were 116 Brimstones noted across the county from 72 sites with the maximum count of 8 coming on the 26th of February 2019 at Markham Pit South (Mark Radford & Sid Morris). Not too far behind was the Comma of which 80 individuals were noted across Derbyshire at 41 sites with the highest count of 11 being seen around the village of Ironville on the 27th of February 2019 (Pete Clark). However not so common was the Peacock of which just 34 were seen from only 31 sites and mainly as singletons – are they scarce now as a result of their decision to enter hibernation early last summer due to the extreme heat which meant that they failed to take enough nectar to sustain them over the winter? Or is it a case that they have been predated heavily by birds and spiders this last winter?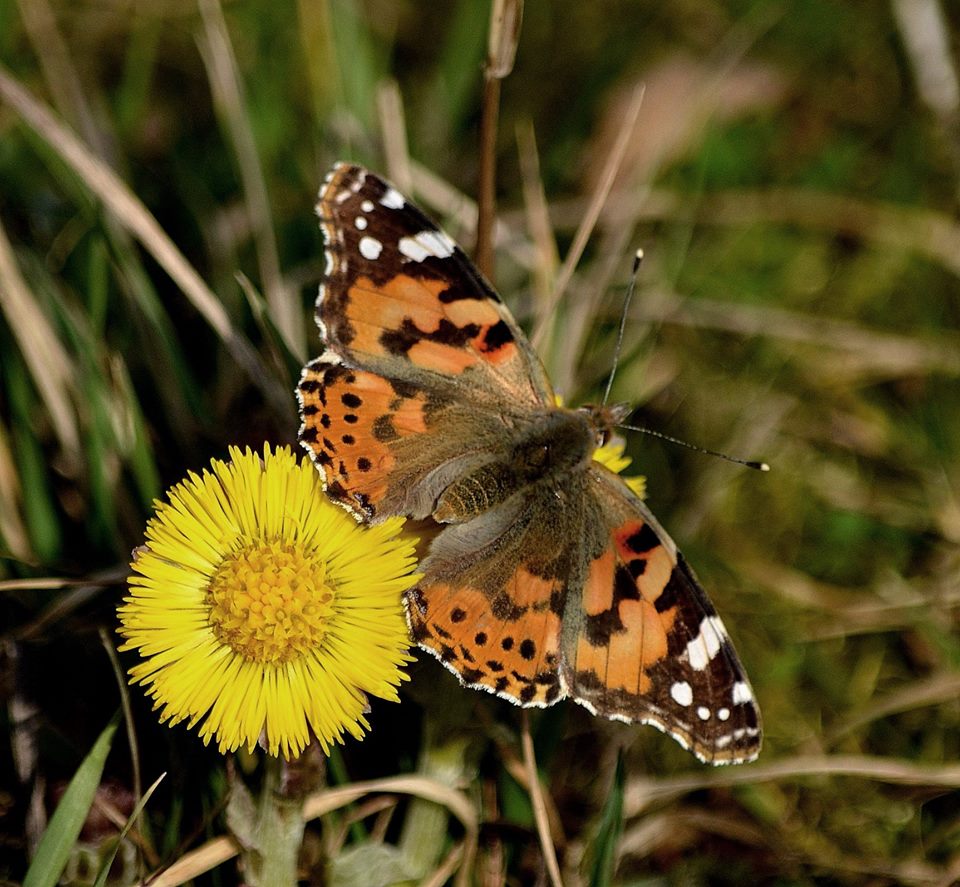 The recent plume of warm air from the Azores and Canary Isles allowed some Painted Lady butterflies to spread into the UK during February 2019 as far north as Lancashire but unfortunately none were seen in Derbyshire. However Pete Clark sent me a photograph of one of them which was taking nectar from Coltsfoot which, as many of you will know, is a very early flower here in the UK.
Recently Chris Butler kindly sent me a link to an article on the planting of disease-resistant elms in Hampshire for the rare White-letter Hairstreak.
Please see the link below:-
Conservationists fight to save rare butterfly from regional extinction BBC Wildlife Magazine - Two charities are working together to plant elms for White-letter Hairstreak butterflies in Hampshire. Read the full story.
Whilst it is great news that 50 new elm trees are being planted there, we, here in Derbyshire, have been well ahead of the game as over 400 Disease Resistant Elms have been planted across South Derbyshire during the last 8 years and the great news is that after flowering for the first time last year at a couple of sites in the Derby area, the White Letter Hairstreak was seen to be flying around the new elms ready to use them for their life cycle.
Indeed, to increase awareness of this rare resident butterfly, Ruth Rolls has produced a Press Release for Tree Warden Networks across the Region as per the attached document. Recently Mick Ball sent me a photo of one of our planted D R Elms at Eyes Meadow, Duffield which showed the tree in flower on the 14th of February 2019 well in advance of its usual flowering time of late March – does this mean that it was too early for use by the caterpillar of the White Letter Hairstreak? I must admit that we are all out of sync with the recent warm spell of weather and with the lack of plants last summer due to the drought it will certainly be interesting to see what effect all this fine weather will have on our local butterfly populations this year – yet again your sightings will illustrate what is actually happening in our County.
Important Notice
Due to the continued interest in carrying out butterfly transects in the county and in order to accommodate as many volunteers as possible, it has been decided to change the venue for next week's training sessions. They will now be held in the Exhibition Hall at the main Cromford Mills complex where there is a large pay and display car park. To remind you, the dates and times are as follows:-
Wednesday the 6th of March 2019 from 1.30 pm to 4.00 pm
Friday the 8th of March 2019 – from 10 am to 12.30 pm
In view of the additional capacity, it is not too late to book these free events - please telephone Elizabeth Woodward on the Reception at the DWT (01773 881188) for details and bookings.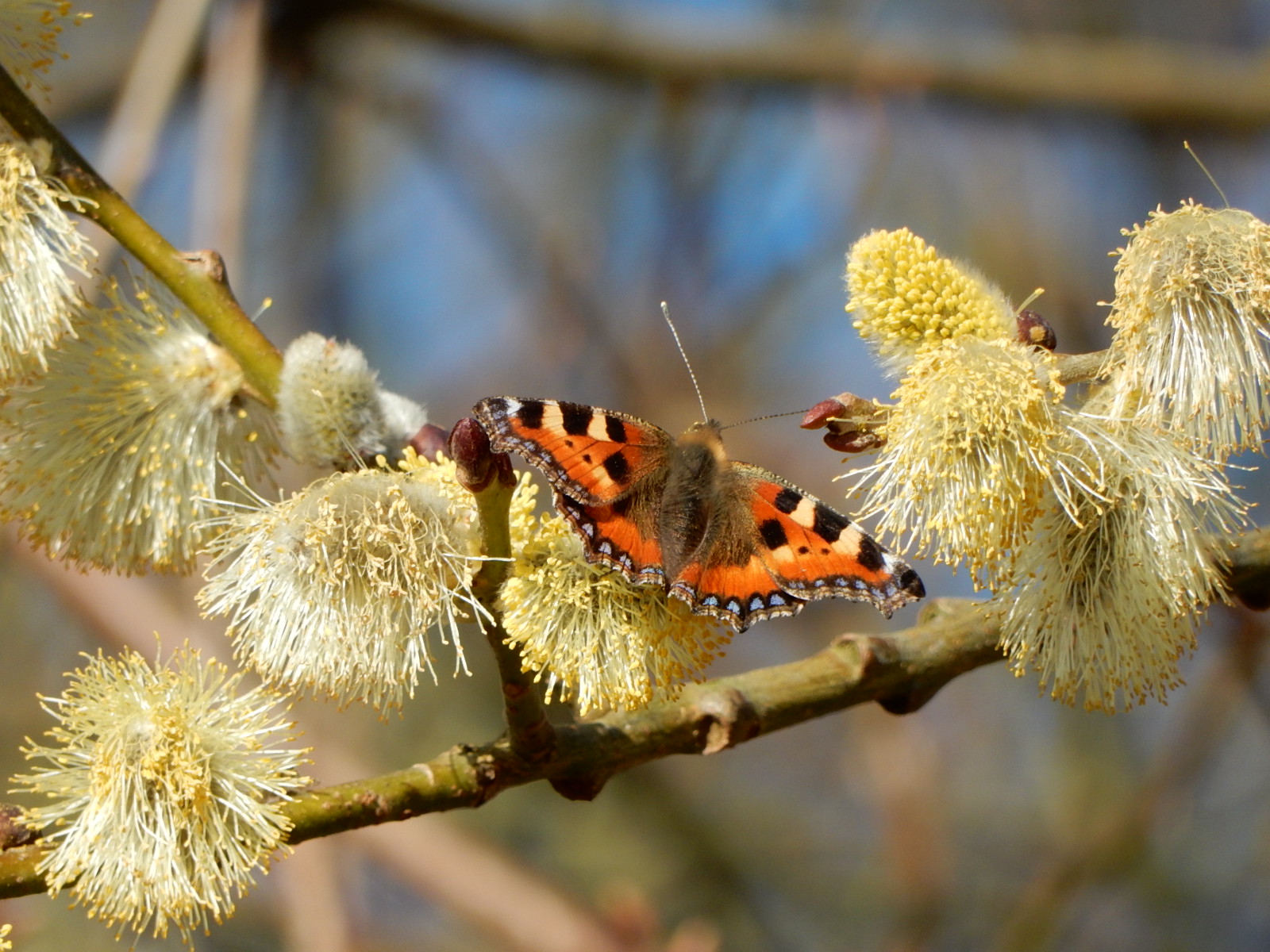 However if you live in the NE of Derbyshire you might be interested in attending a similar event that is being held on the 14th of March 2019 from 12 noon until 4.30 pm at Poolsbrook Country Park – this free event is being organised by the DWT when local enthusiasts Mark Radford and Sid Morris will be doing the training - please see leaflet for details.
Finally, due to the number of excellent photos of UK butterflies that I have received recently, I have postponed the issue of the promised South African butterflies until the next update.