Wirksworth school children plant dog-violets
On a cool day in March, a group of 60 well wrapped-up Reception and Year 2 pupils from Wirksworth Church of England Infant School in Derbyshire attended the National Stone Centre (NSC) to plant dog-violets.
It is hoped that the presence of these plants will encourage some scarce butterflies, notably Dark-green and Silver-washed Fritillaries, to populate an existing Butterfly Conservation transect that has already notched up an impressive list of butterflies.
Armed with trowels and guided by teachers, and volunteers from the NSC and the East Midlands branch of Butterfly Conservation (EMBC), the youngsters focused on two particular areas for the planting. The smiles on the faces of these Year 2 pupils showed they clearly enjoyed the experience.
Jo Poyser, Headteacher of Wirksworth Federation of Infant Schools, said: Our involvement with the project came about after being approached by the Stone Centre to plant, nurture and grow dog-violets which could be planted in the meadow space at the Stone Centre to attract endangered butterflies.
Within school we already do a great deal to promote outdoor learning and this project fitted in perfectly with our curriculum to teach children about the importance of plants and wildlife in our local environment and the significant role children have to play in supporting this good cause. The children have all been encouraged to go and look at the dog-violets we planted with their families and watch them grow and flourish over time.
Ken Orpe, who is Butterfly Recorder for Derbyshire and the Transect Co-ordinator for the East Midlands region was at the planting event and was delighted to see the younger generation engage with this wildlife project.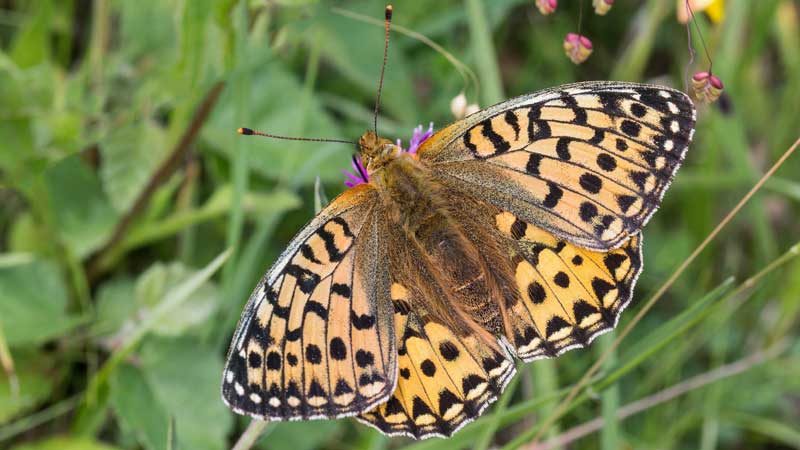 Ken said: EMBC volunteers have carried out a transect at the NSC for eight years and, in that time, 26 butterfly species have been recorded. One absentee, however, has been the Dark-green Fritillary. By planting the dog-violets we hope to establish a breeding colony of this iconic Peak District species (see photo above) on site.
29/03/2023