Habitat Restoration and Creation
This brownfield site which is owned by Derbyshire County Council, has developed over the years to become a very interesting wildlife site consisting of a woodland and adjacent grassland. By carrying out habitat restoration and habitat creation, we are hoping that it will be designated as a Local Nature Reserve (LNR). Since the Millennium, a butterfly transect has been carried out by my wife Pat and I, which has enabled us to compile a detailed dataset of information on butterfly numbers, flight periods and those species that are moving within the County. Below is a list of the 24 species that have been recorded there which includes the rare White Letter Hairstreak (a BAP species).
Part of the site, the Brickyard Plantation, is leased to an Archery Club with whom we are working with to improve the habitat there as well. Wayne Furniss and his team have been carrying out sterling conservation work clearing rides and erecting bird boxes. He has now recorded 25 species of birds in the wood, most of which are breeding there.
Unfortunately, during the period up to 2012, there was a vast increase in the spread of bramble on site, so much so that half of the grassland was in danger of being lost. However, I made contact with Derbyshire County Council and it was decided to do something about it straight away.
A Contractor with a machine and shredder soon cut the bramble down to size, but it still left the vigorous roots in the ground, which have subsequently been 'spot' sprayed. At the same time a Friends Group was set up which now involves 18 villagers who volunteer to carry out conservation work at least once a month, This has now allowed the existing grassland to be cut and raked off each autumn including spreading of yellow rattle seeds amongst it so as to cut down on vigorous growth.
We have been putting in plants and shrubs to both maintain the butterfly species and hopefully attract more species.
The tasks completed include:-
Planting Disease Resistant Elms, provided by the Derbyshire Wildlife Trust (for White Letter Hairstreaks)
Planting Wild Honeysuckle, provided by the DWT (for the White Admiral)
Planting Alder Buckthorn, provided by DWT (for Brimstones)
Planting Birds Foot Trefoil for Common Blue/Dingy Skippers
Our major task completed in 2014 was the creation of a butterfly bank across the north end of the grassland and which is approximately 17metres long. This involved moving 90 tonnes of sub-soil and 20 tonnes of limestone through a woodland along a narrow path. The photo is of the finished project which will now be planted with Birds Foot Trefoil and other suitable plants for the butterflies.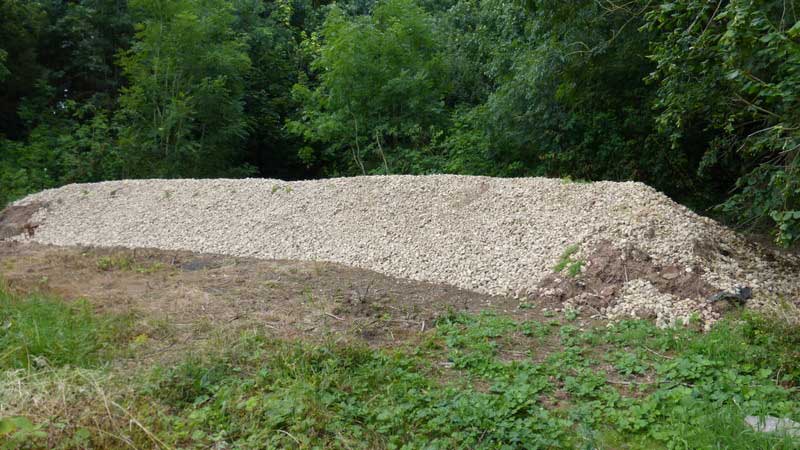 All of this work would not have been possible without the help of the following companies:-
Dave Frost of Frost Grab Hire – Supplying 90 tonnes of subsoil (free of charge)
Longcliffe Quarries Ltd - Supplying 20 tonnes of Limestone (free of charge)
Graham Prime and family supplying an Excavator and Dumper to move all of the above materials.
Further spraying this autumn of the bramble shoots that are still appearing will hopefully resolve the issue, and this should then allow us to prepare and sow the new wild flower meadow next spring, for which part of the £1000 donation by Butterfly Conservation East Midlands will be used.