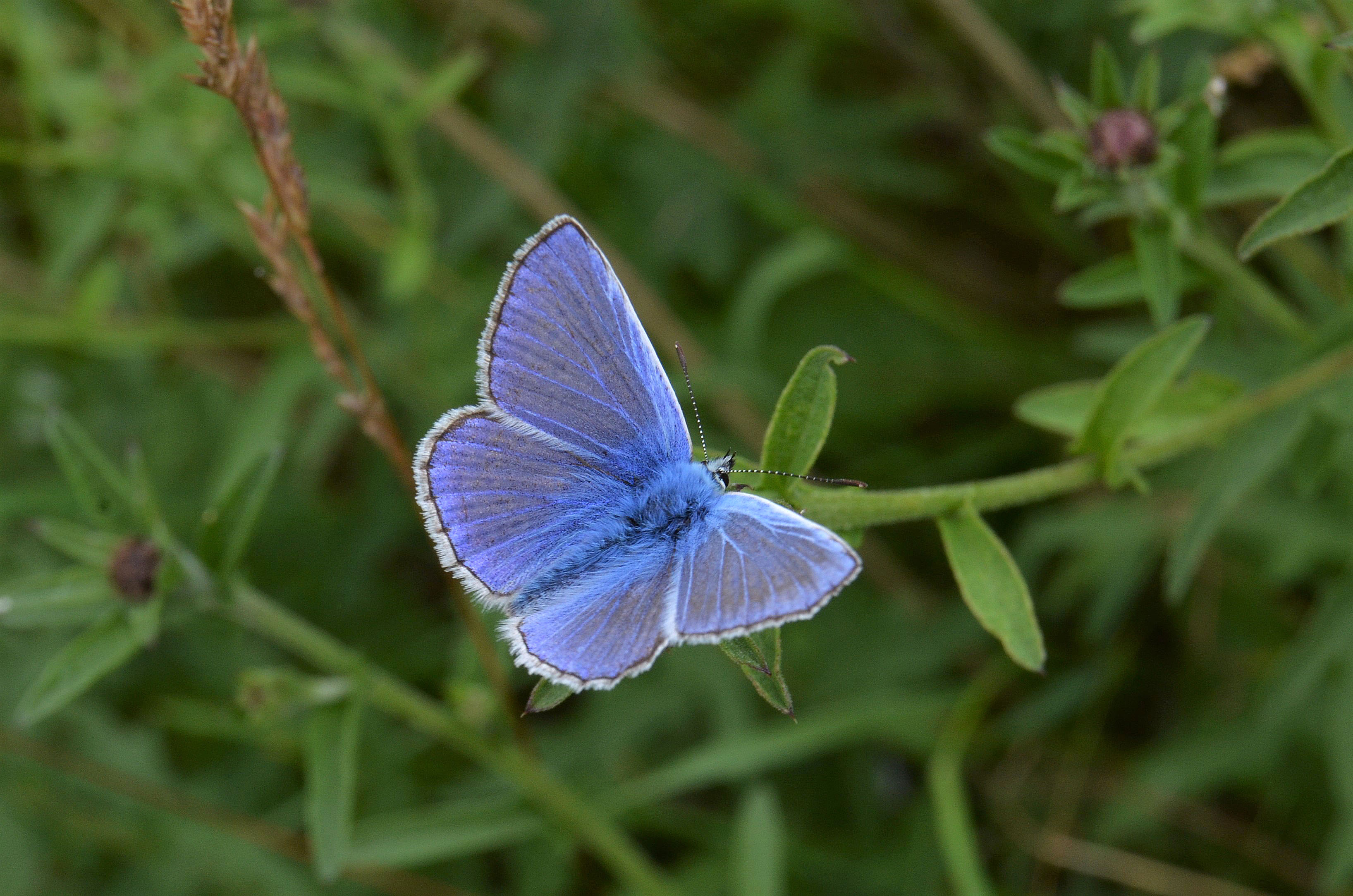 FIFTH OPEN DAY SUCCESS FOR HOE GRANGE QUARRY BUTTERFLY RESERVE
A duller than expected day and a sharp breeze may have kept the butterflies hunkered down but did not prevent a good turnout at the Hoe Grange Quarry Reserve Open Day on Sunday (2nd July 2023).
Hosted by quarry owners Longcliffe, and supported by East Midlands Butterfly Conservation (EMBC) and Derbyshire Wildlife Trust (DWT) who co-manage the site, the Open Day attracted 275 visitors throughout the day.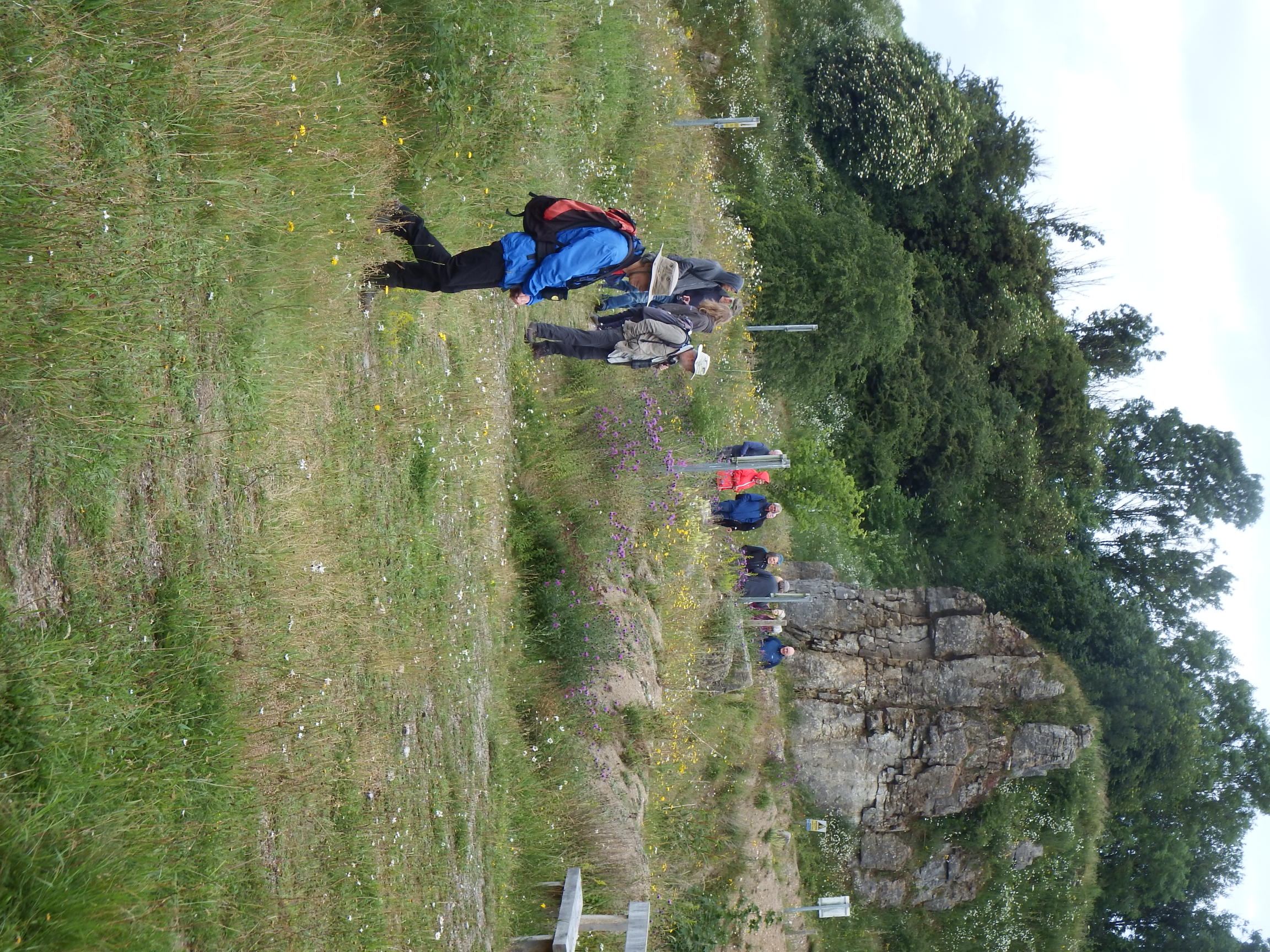 It is the fifth time this former working quarry – Derbyshire's first and only reserve focusing on butterflies – has been open to the public. The first occasion was in 2017; Covid prevented open days in 2020 and 2021, but the annual event was resumed last year when a similar number of visitors came in search of some of the 29 species of butterfly that have been recorded in the reserve's relatively short life.
That is a remarkable total when considering that only 32 species are routinely recorded in Derbyshire. As luck would have it, despite a succession of tours led by EMBC specialists, only 11 species were found at this particular open day. They included some very attractive butterflies including Red Admiral, Common Blue, Comma, Small and Large Skippers, a freshly-hatched 'mint' Gatekeeper, plus Meadow Brown, Ringlet, Small Heath, Speckled Wood, Small White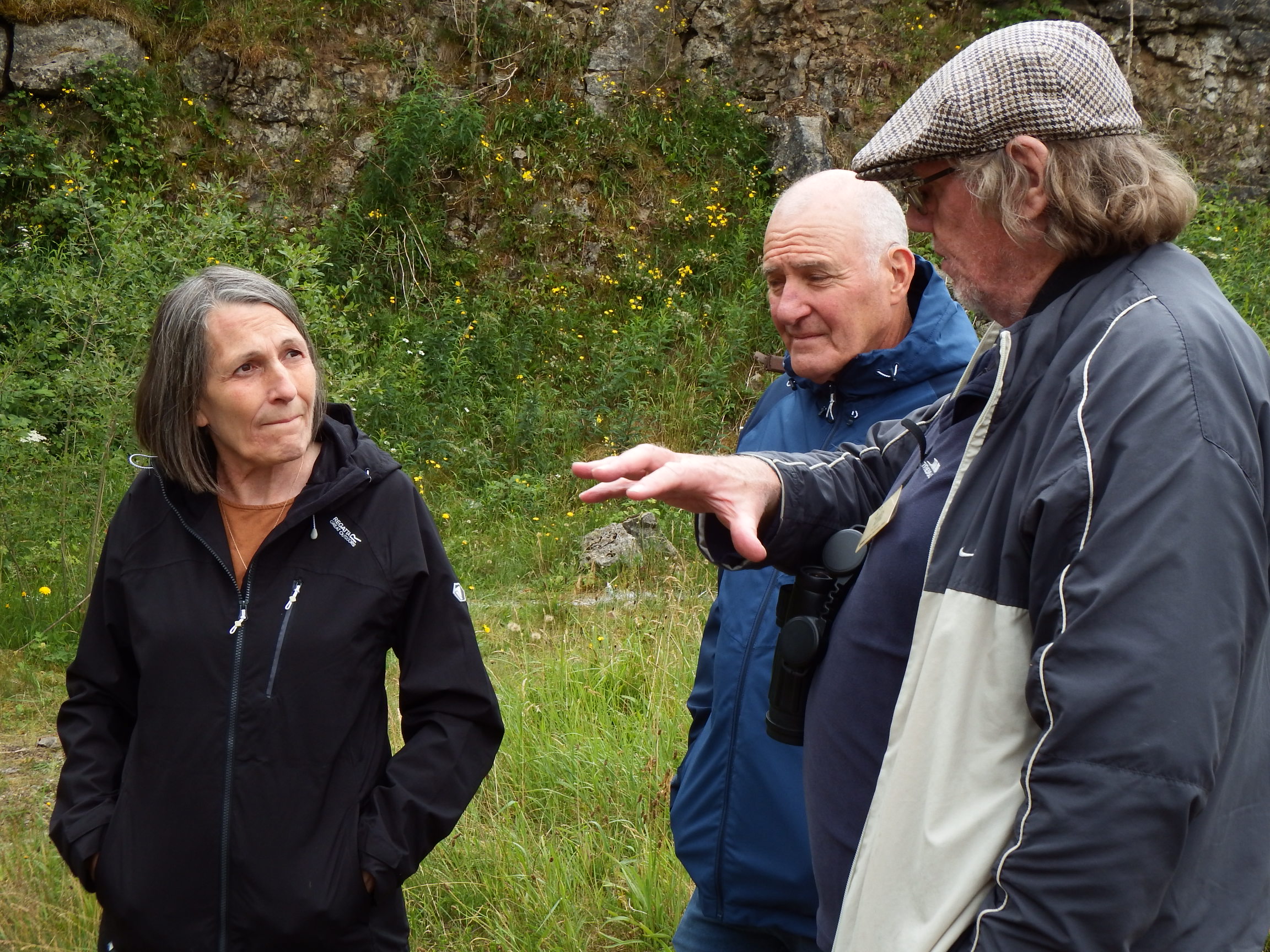 A number of day-flying moths including Lattice Heath and Silver-Y and 6-belted Clearwing, and dragonflies were also spotted on the wing, reported Derbyshire Butterfly Recorder Ken Orpe. He added: "The weather was not ideal and may have put a few potential visitors off, but those who did attend had a good time and I have already received a number of e-mails expressing their appreciation – so thanks to everyone involved."
The reserve is only a few hundred yards from Longcliffe's local headquarters on the B5056, and the company's Group Managing Director Paul Boustead attended throughout the day. The site is contained within steep sided cliff faces favoured by the scarce Wall Brown butterfly, and also attracts a range of other wildlife including birds such as Little Owl, Kestrel, Spotted Flycatcher and Whitethroat, and shy and rarely-seen mammals and amphibians.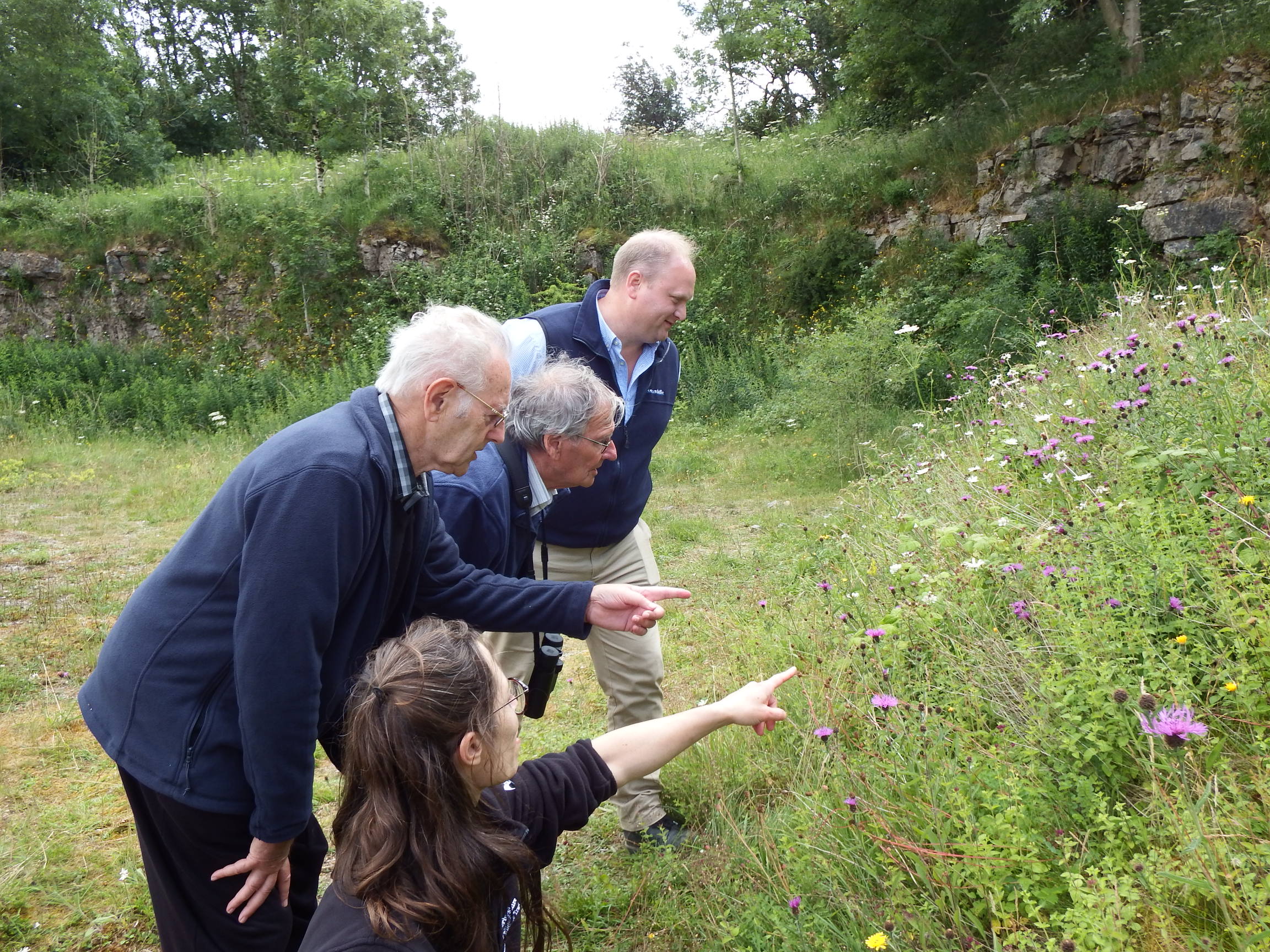 Indeed, for the younger visitors, amphibians were the main interest as they tried their luck at pond-dipping, aided and abetted by DWT staff, in a large pool that sits at the lowest point of the reserve.
Meanwhile, reviving refreshments were provided by Longcliffe staff, a handy ice-cream van was also in attendance at the event, and the butterfly-related sales table was very busy, raising more than £500, with profits going to benefit sites in the East Midlands. EMBC Branch Organiser Jane Broomhead thanked everyone who had been involved in making it such a successful day, especially Ken Orpe and his wife Pat.
Institute of Quarrying
Excellence Awards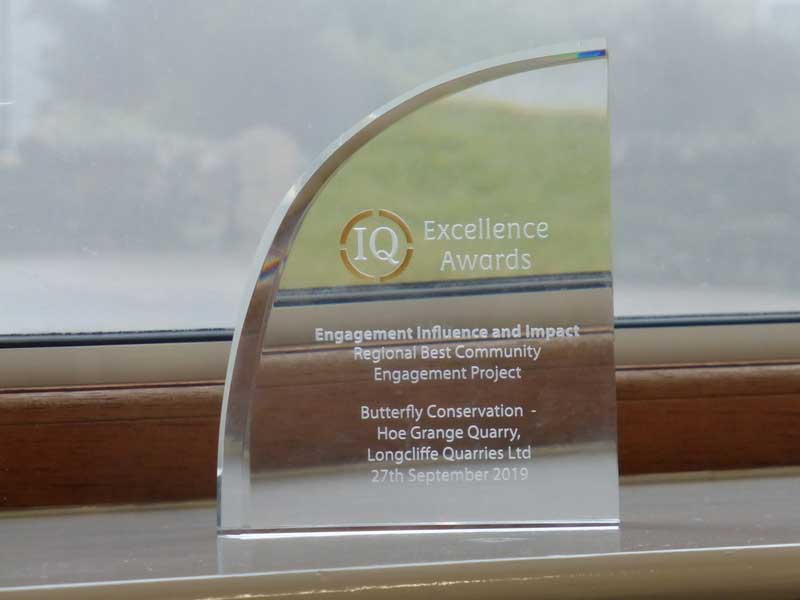 This award, made in late 2019 seems to have got lost in the confusion of Covid and has only just come to light.
More information HERE
Hoe Grange Quarry
A short film (just over 3 minutes) starring Ken Orpe, Ray Walker and the Wall Brown.
The brilliant Hoe Grange Quarry reserve acquired another fan in August, when Derbyshire's current High Sheriff, Tony Walker CBE, visited the site as part of a tour of Longcliffe Group, the independent quarry operator that owns Hoe Grange.
Accompanied by Viv Russell, Longcliffe's Group Managing Director, Tony Walker was hosted by Ken Orpe, Derbyshire's Butterfly Recorder, and Ray 'Badger' Walker who keeps a close eye on the reserve's impressive development as resident Warden on behalf of East Midlands Butterfly Conservation (EMBC).
The former Deputy Managing Director of Toyota Manufacturing UK was treated to a comprehensive tour of Hoe Grange, where he saw a number of butterfly species. He was, though, particularly keen to see one of the county's rarest species, the Wall Brown ... and, as usual, Hoe Grange came up with the goods, as one of the sprightly Walls came down from the rocks and settled on vegetation long enough for a decent view.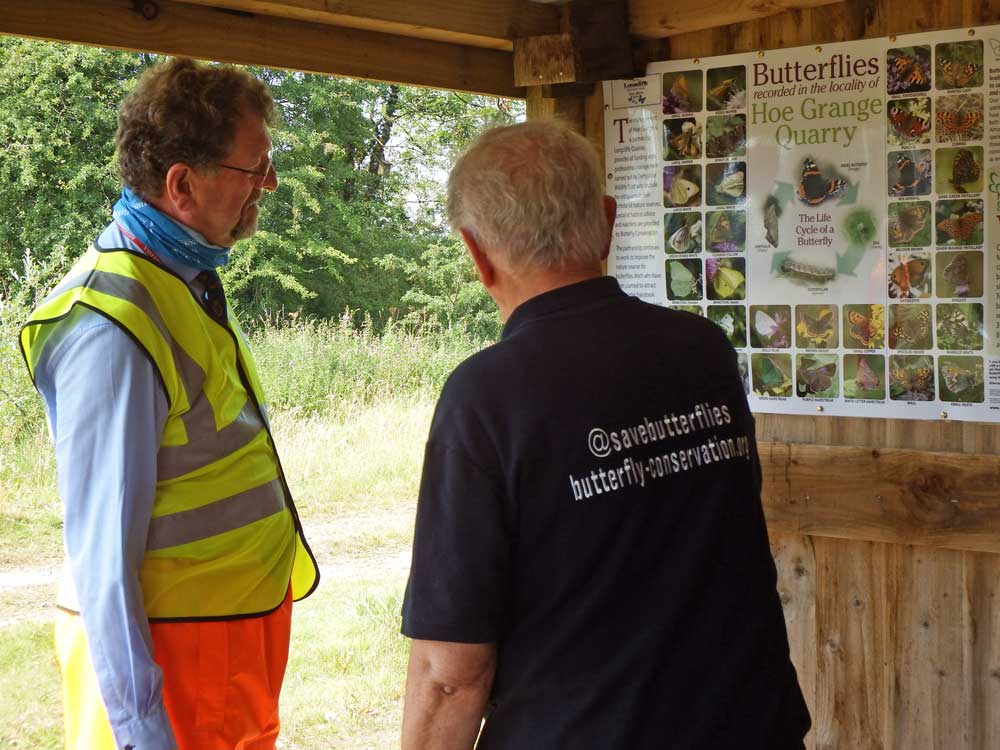 Hoe Grange has in the past decade developed into one of the top sites in the East Midlands for butterflies. A lot of effort has gone into creating a range of good habitats, with food plants and other vegetation to attract key species and it has paid dividends as 29 species have so far been recorded at the site.
Viv Russell is very proud of how the former working quarry now supports a wide range flora and fauna. And Tony Walker's evident interest on the day is far from incidental, as he was instrumental in developing a nature reserve at the Toyota site at Burnaston, where members of EMBC – including Ken and his wife Pat – undertake two transects throughout the summer months.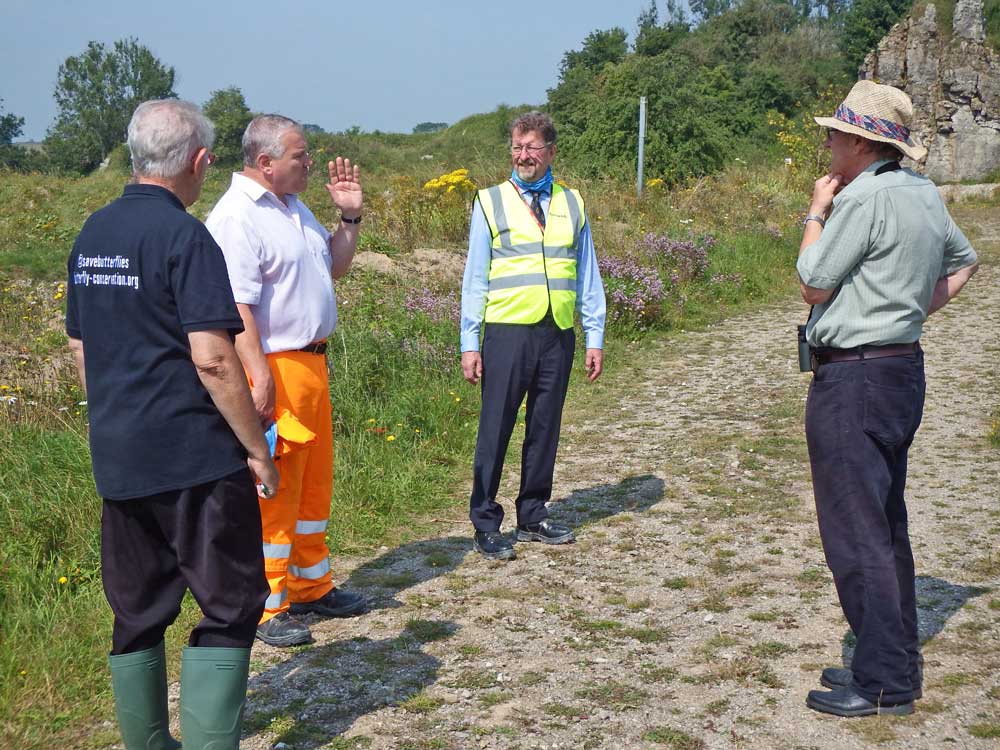 By coincidence, the two Mr Walkers met up in Parwich a few days after the official Longcliffe visit and Tony expressed his delight at what he had witnessed at Hoe Grange and said that he intends to take his grandchildren there as soon as possible.
Access to the reserve is normally by appointment only through contacting Ken Orpe or by calling the Reserve Warden, Ray Walker on 01335 390584.
The area measures 4.75 hectares and the land is owned by Longcliffe Quarries Ltd, but the Derbyshire Wildlife Trust and Butterfly Conservation's East Midlands Branch have been managing the site for wildlife.
East Midlands BC have been providing habitat advice and their volunteers have been working to plant butterfly-friendly plants and have been carrying out transects on the site since 2015.
To date, 26 species of butterfly have been recorded, including three BAP species - the Wall, Dingy Skipper and Small Heath. UK BAP priority species were those that were identified as being the most threatened and requiring conservation action under the UK Biodiversity Action Plan (UK BAP).
There have also been sightings of two Peak District speciality species - the Dark Green Fritillary and the Peak District variety of the Brown Argus butterfly.
There is also a very large colony of Common Blue on the site due to its food plant, Bird's-foot-trefoil, colonising the entire quarry floor when the site was left to wildlife in the 1970s.
2018 was the first year we set up moth traps on the reserve and previous to this, we had only spotted the day-flying Wood Tiger moth at Hoe Grange in 2015.
For more information on the site, or if you would like to visit, please email Ken Orpe.
Please note: No dogs allowed, with the exception of assistance dogs.