Hoe Grange Quarry
Hoe Grange Quarry Transect Results for 2020
Download the Results here
The brilliant Hoe Grange Quarry reserve acquired another fan in August, when Derbyshire's current High Sheriff, Tony Walker CBE, visited the site as part of a tour of Longcliffe Group, the independent quarry operator that owns Hoe Grange.
Accompanied by Viv Russell, Longcliffe's Group Managing Director, Tony Walker was hosted by Ken Orpe, Derbyshire's Butterfly Recorder, and Ray 'Badger' Walker who keeps a close eye on the reserve's impressive development as resident Warden on behalf of East Midlands Butterfly Conservation (EMBC).
The former Deputy Managing Director of Toyota Manufacturing UK was treated to a comprehensive tour of Hoe Grange, where he saw a number of butterfly species. He was, though, particularly keen to see one of the county's rarest species, the Wall Brown ... and, as usual, Hoe Grange came up with the goods, as one of the sprightly Walls came down from the rocks and settled on vegetation long enough for a decent view.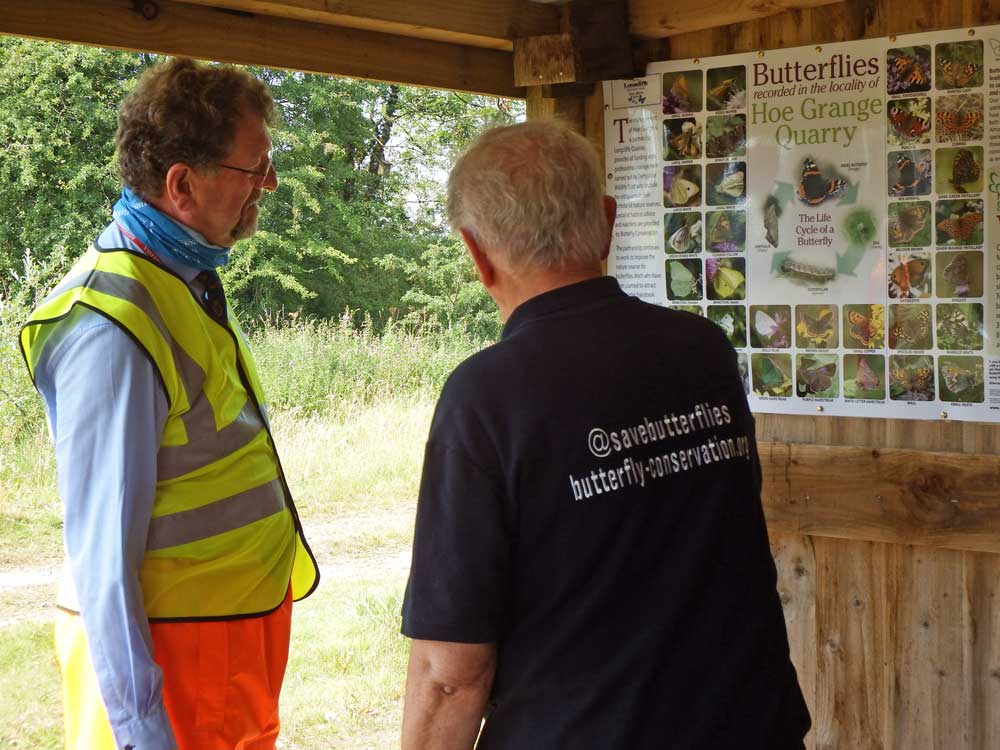 Hoe Grange has in the past decade developed into one of the top sites in the East Midlands for butterflies. A lot of effort has gone into creating a range of good habitats, with food plants and other vegetation to attract key species and it has paid dividends as 29 species have so far been recorded at the site.
Viv Russell is very proud of how the former working quarry now supports a wide range flora and fauna. And Tony Walker's evident interest on the day is far from incidental, as he was instrumental in developing a nature reserve at the Toyota site at Burnaston, where members of EMBC – including Ken and his wife Pat – undertake two transects throughout the summer months.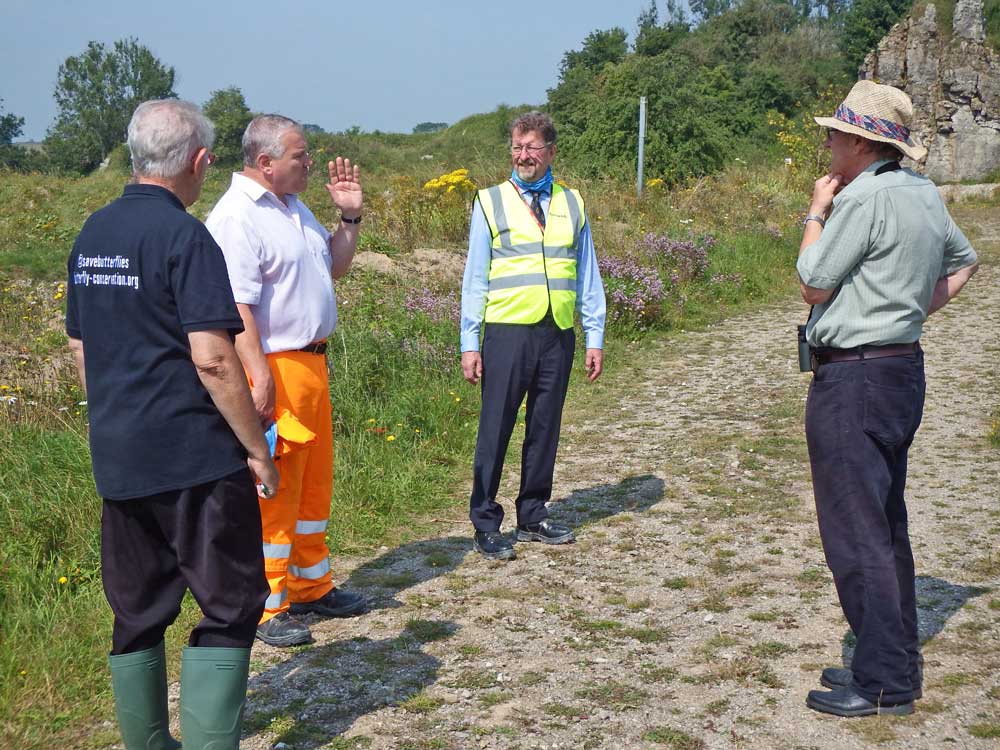 By coincidence, the two Mr Walkers met up in Parwich a few days after the official Longcliffe visit and Tony expressed his delight at what he had witnessed at Hoe Grange and said that he intends to take his grandchildren there as soon as possible.
Hoe Grange Quarry is the first Butterfly Reserve in Derbyshire.
The first Butterfly Nature Reserve for the county is situated at the edge of the Peak District at Longcliffe in a disused limestone quarry.
Access to the reserve is normally by appointment only through contacting Ken Orpe or by calling the Reserve Warden, Ray Walker on 01335 390584.
Hon Warden: Ray Walker (BC Member)
Assistant Warden: Derek Brownlee (BC Member)
Site Recorder: Ken Orpe (BC East Midlands - Derbyshire Butterfly Recorder)
The area measures 4.75 hectares and the land is owned by Longcliffe Quarries Ltd, but the Derbyshire Wildlife Trust and Butterfly Conservation's East Midlands Branch have been managing the site for wildlife.
East Midlands BC have been providing habitat advice and their volunteers have been working to plant butterfly-friendly plants and have been carrying out transects on the site since 2015.
To date, 26 species of butterfly have been recorded, including three BAP species - the Wall, Dingy Skipper and Small Heath. UK BAP priority species were those that were identified as being the most threatened and requiring conservation action under the UK Biodiversity Action Plan (UK BAP).
There have also been sightings of two Peak District speciality species - the Dark Green Fritillary and the Peak District variety of the Brown Argus butterfly.
There is also a very large colony of Common Blue on the site due to its food plant, Bird's-foot-trefoil, colonising the entire quarry floor when the site was left to wildlife in the 1970s.
Butterflies
| Butterfly species | Year First Seen |
| --- | --- |
| Small Skipper | 2012 |
| Essex Skipper | 2015 |
| Large Skipper | 2013 |
| Dingy Skipper (BAP) | 2011 |
| Large White | 2012 |
| Small White | 2011 |
| Green-veined White | 2011 |
| Orange-tip | 2011 |
| Small Copper | 2013 |
| Brown Argus (Peak District species) | 2014 |
| Common Blue | 2011 |
| Red Admiral | 2011 |
| Painted Lady | 2015 |
| Small Tortoiseshell | 2011 |
| Peacock | 2011 |
| Comma | 2013 |
| Dark Green Fritillary | 2012 |
| Speckled Wood | 2013 |
| Wall (BAP) | 2011 |
| Gatekeeper | 2011 |
| Meadow Brown | 2011 |
| Ringlet | 2012 |
| Small Heath (BAP) | 2011 |
| Clouded Yellow | 2016 |
Possible additional species
Brimstone: Volunteers planted Alder Buckthorns in 2016
Green Hairstreak: Seen in nearby Quarries
Purple Hairstreak (BAP): Oak in adjoining site
White-Letter Hairstreak (BAP): Elm present on site
Holly Blue: Holly present on site
Moth species
2018 was the first year we set up moth traps on the reserve and previous to this, we had only spotted the day-flying Wood Tiger moth at Hoe Grange in 2015.
Now, thanks to help from Ken Orpe, Steve Orridge & Ray Walker, we know that these moth species are present at the site:
Ghost Moth
Common Swift
Map-winged Swift
Ghost Moth
Ash Bud Moth
Garden Grass-veneer
Silver-ground Carpet
Small Phoenix
Common Marbled Carpet
Green Carpet
Small Rivulet
Clouded Border
Latticed Heath
Brimstone Moth
Blotched Emerald
Coxcomb Prominent
Buff Ermine
White Ermine
Knot Grass
Angle Shades
Small Dotted Buff
Dusky Brocade
Clouded-bordered Brindle
Rustic Shoulder-knot
Dark Arches
Middle-barred Minor
Pale-shouldered Brocade
Bright-line Brown-eye
Broom Moth
Shears
Clay
Shoulder-striped Wainscot
Heart and Dart
Flame Shoulder
Flame
Flame Shoulder
Ingrailed Clay
Small Square-spot
Large Yellow Underwing
Coleophora mayrella
Pseudargyrotoza conwagana
Eucosma hohenwartiana
Udea olivalis
Scoparia pyralella
Crambus pascuella
Agriphila tristella
Agriphila straminella
For the full list and to see what other wildlife you can enjoy at the site, see:
For more information on the site, or if you would like to visit, please email Ken Orpe.
Please note: No dogs allowed, with the exception of assistance dogs.