Help Us Record Green Hairstreak in Notts
The Green Hairstreak is one of three hairstreak species that occur in Nottinghamshire. It has recently been added to the Notts Biodiversity Action Group list of species and a Species Action Plan has been drafted.
The Green Hairstreak is a small butterfly with green underwings and is almost always seen with its wings closed, its green colour makes it unmistakable. It is commonly seen near the ground in grassy or bare areas, this is unlike the other hairstreaks that spend much of their time in the tree canopy. It seems to prefer warm sheltered locations on light sandy soils and on disturbed ground at brownfield sites. The life cycle is poorly understood although the species spends a very large part of the year in the pupal stage. It is postulated that ants play a role through interactions with the caterpillars and/or pupae. An informative factsheet is produced by Butterfly Conservation.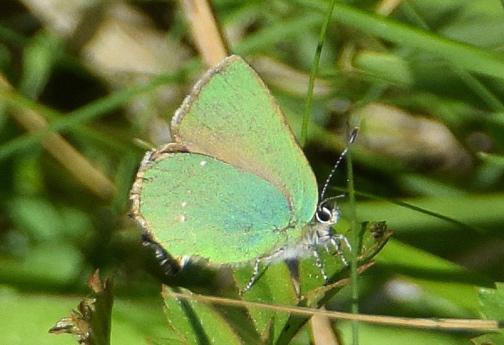 The flight season is usually late April to mid-June, the first and last recorded dates in 2021 for Notts were 30th April, and 12th June, respectively.
Across Europe the species is known to have up to 50 larval-food plants, in Notts the only known one to-date is Bird's-foot Trefoil, although within the East Midlands, Gorse, Broom, Bilberry and Bramble may also be important.
Records from Notts go back to the mid 19th Century but the species has never been widespread or abundant. Currently good populations are established at Toton Sidings, Calverton Pit, Gedling Country Park, Netherfield Lagoons, Skylarks NWT reserve at Holme Pierrepont, and Cotgrave Country Park. Most other sightings come from parks and green areas in and around Nottingham.
We are asking recorders to help us evaluate the status of this species over the coming seasons. Particular sites that could be searched include Rushcliffe Country Park, Bestwood Country Park especially around the old sand quarry and Carlton Wood immediately south of Carlton in Lindrick in the north of the county. There are past records from these sites but none within the last 5 years.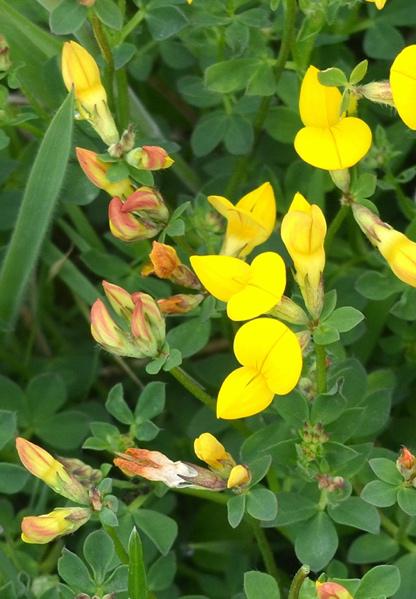 If you are going to try to record Green Hairstreak could you please record the location as accurately as possible, ideally as an 8-figure grid reference, e.g. SK46792401, this gives a resolution of 10m. Records can be entered on-line from a mobile phone using the Butterfly Conservation - iRecord app which is available for android or apple devices.
For those preferring to use more traditional recording techniques please either register and record your sightings on iRecord at https://irecord.org.uk or email them to the county recorder, Steve Mathers, if possible as an excel spreadsheet. The key data for any record should include the date, location, grid ref, species, number seen and recorder name.